Traffic Research
Transportation planning relies on good data to understand existing traffic conditions and changes to conditions, whether one is measuring traffic volume, the types of traffic using a facility (e.g. vehicles, trucks, bikes), traffic speeds, traffic congestion or delay, or other information. Measuring traffic operations—whether on a highway, bike trail or sidewalk—is critical for addressing questions that residents, elected officials, and transportation professionals have about the relative safety, mobility or accessibility of transportation infrastructure in their community or jurisdiction.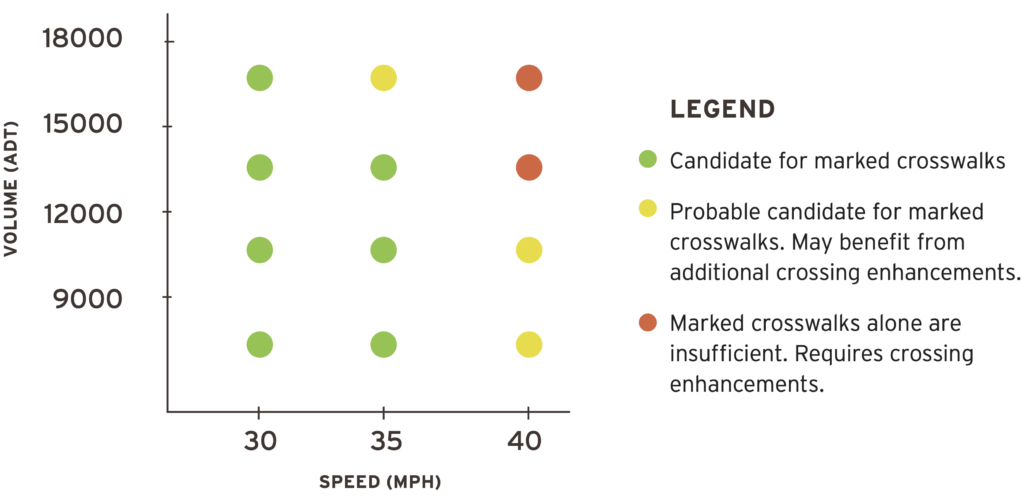 One application of traffic data is assessing the suitability of particular safety improvement, such as crosswalks. Source: Federal Highway Administration
SWRPC has a robust traffic research program that is used for a variety of purposes including monitoring traffic trends, planning, project development, public policy and even funding. SWRPC partners with the New Hampshire Department of Transportation to conduct traffic counts using pneumatic counters typically installed for a weeklong period. On an annual basis, SWRPC staff and interns deploy traffic counters at about one third of established count locations, which number approximately 400 in total across the Monadnock Region. SWRPC also responds to special requests from municipalities to research traffic characteristics at other locations including municipal roads, rail trails, and sidewalks. In addition to collecting traffic count data, SWRPC also conducts "turning movement" counts to understand traffic patterns at intersections and windshield surveys to understand trends in carpooling. Visit our Traffic Research Dashboard to see SWRPC's current count locations and their completion status.
Much (but not all) of SWRPC's traffic data is available via NHDOT's Traffic Data Management System (TDMS). If you're interested in traffic data for a particular location or have other questions about SWRPC's traffic research program, don't hesitate to contact us. Also, SWRPC's long-range transportation plan Southwest Connects, contains lots of traffic count information for transportation corridors across the Monadnock Region.
Screenshot of NHDOT's Traffic Data Management System
Resources & Helpful Links
Contact Information
Henry Underwood
GIS Specialist/Planner
Resources
Southwest Connects: Southwest Region Transportation Plan 2014 – 2035