A Primer on Electric Vehicles (EVs) and Charging Station Types 
May 16, 2022

Transportation
By: Jennifer Nelson
In a previous post, I discussed reasons for municipalities in the Monadnock Region to start preparing for a transition to electric vehicles. This post provides a brief overview of the kinds of electric vehicles (EVs) currently on the market and the charging requirements for each.
Electric Vehicle Types
EVs have electric motors powered by batteries. The range and capabilities of these vehicles vary by manufacturer and model, and how they operate depends on vehicle type. Currently, there are four primary types of electric vehicles.
Battery electric vehicles (BEVs), also referred to as all-electric vehicles (AEVs), run on one or more battery-powered electric motors. According to the U.S. Department of Energy, most BEVs can travel at least 100 miles on a single charge, though newer BEV models (like the Tesla Model S or Ford Mustang Mach-E) have ranges exceeding 300 miles.
Plug-in hybrid electric vehicles (PHEVs) have electric motors and battery packs but, unlike a BEV, these vehicles also have a small internal combustion engine that can recharge the battery or even power the wheels. Their ability to use a combination of battery- and gasoline-based power boosts the vehicle's range capabilities. When using battery power alone, PHEV ranges are often capped at 50 miles, a distance that may pale in comparison to BEV ranges but is still more than sufficient for most personal vehicle trips (the 2017 National Household Travel Survey found household trips averaged 10.2 miles per trip).
Hybrid electric vehicles (HEVs) have both an internal combustion engine and battery-powered electric motors. However, the batteries of an HEV are recharged by the fuel-powered engine as opposed to an external station.
Fuel Cell Electric Vehicles (FCEVs) have electric motors powered by hydrogen-generated electricity, in contrast with the other electric vehicle types. FCEVs cannot be recharged from an external source.
Electric Vehicle Charging Station Types
Battery chemistry can differ slightly depending on EV type and manufacturer specifications, but the main consideration for charging is speed. With the proper equipment and voltage, EVs can be recharged safely at three speeds.
Level 1 equipment uses the standard residential 120V outlet and charges vehicles slowly. It can take up to 50 hours to fully charge a BEV from empty or 6 hours to fully charge a PHEV from empty. Level 1 charging stations are typically located at home, workplace, or public parking.
Level 2 equipment uses a 240V outlet and charges at a medium speed. It can take 4-10 hours to charge a BEV and 1-2 hours to charge a PHEV. Level 2 charging stations are more common at workplace and public parking areas including shopping centers or transit stations.
Direct current fast charging (DCFC) equipment is the fastest charging option because of high-voltage direct current, compared to Level 1 and 2 charging which using alternating current (AC). DCFC can charge a BEV to 80 percent in less than 1 hour (equivalent to 3-20 miles per minute). Most PHEVs do not yet work with DCFC equipment. There are three kinds of DCFC charging connectors: the Combined Charging System (CCS) connector (based on an international standard) works with vehicles manufactured in North America and Europe; the CHArge de Move (CHAdeMO) connector works for Japanese manufactured vehicles; and the Tesla connector works for all charging speeds, including at Tesla's "Supercharger" DCFC stations. Non-Tesla EVs require adapters to charge and Tesla charging stations. DCFC chargers are best used along interstates and other corridors supporting long-distance travel.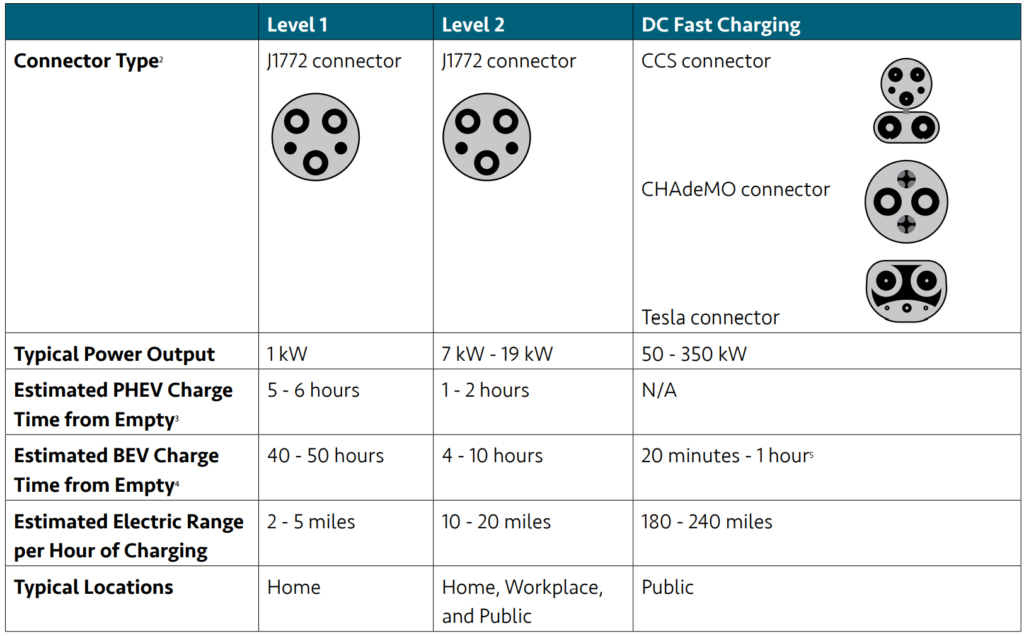 For the best public charging experience, communities should plan to add both Level 2 and DCFC equipment in heavily trafficked areas. This will provide compatible charging options for the greatest number of EVs.