NH 10 South Corridor Meeting 9/8/22 at 6:30 p.m.
August 22, 2022

Transportation
The NH Route 10 South Corridor is one of eight major transportation corridors in the Southwest NH Region. This corridor facilitates north-south regional traffic movements on NH Route 10 between Keene and Winchester. Besides NH Route 10, this corridor also includes a network of regional highways including but not limited to parts of NH Route 63, 78 and 119. Towns identified as part of this Corridor include Hinsdale, Keene, Richmond, Swanzey and Winchester. The NH 10 South Corridor is important for facilitating traffic flow to and from I-91, like the NH 9 West and NH 12 North Corridors. Approximately two thirds of commuters in the Southwest Region use NH 10 to reach destinations to the south and west including trips that extend west via I-90 in Massachusetts and southwest via I-84 in Connecticut.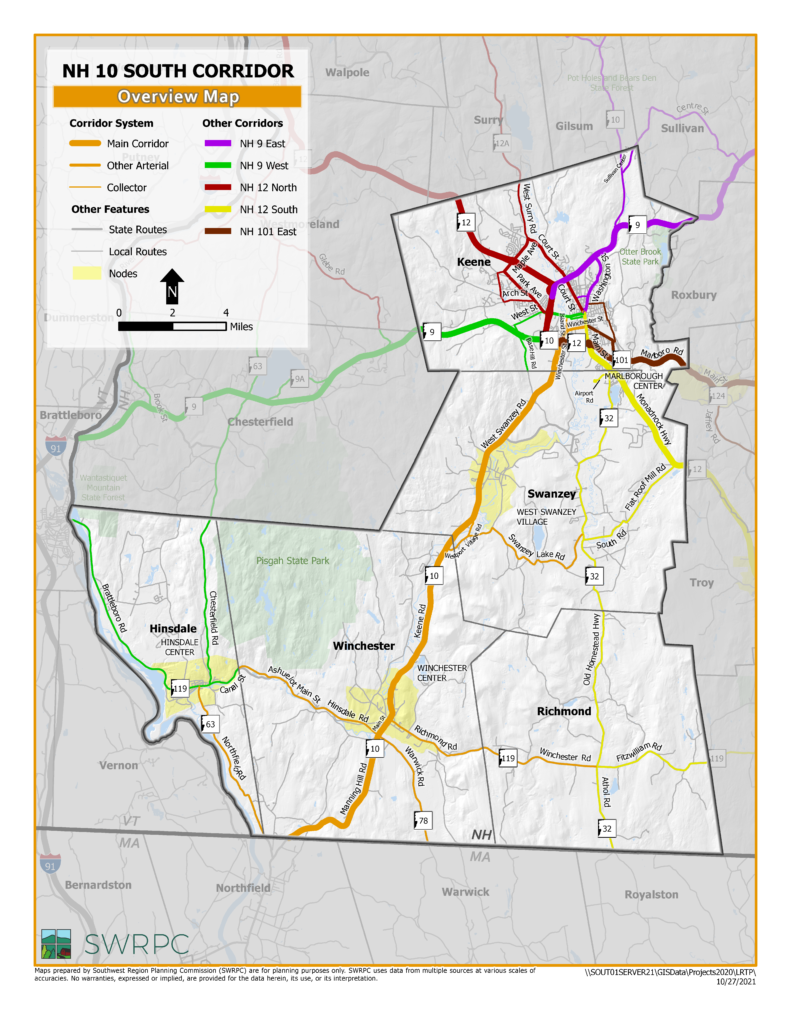 Is this corridor part of your regular commute? Are you satisfied with current travel conditions or do you feel that improvements and investments are necessary to improve traveler safety and convenience or comfort? Do you wish there were additional transportations options in this area such as public transportation? Would you like to see improved conditions for cyclists and pedestrians?
If you have questions, comments or concerns about transportation on the NH Route 10 South Corridor, please attend the corridor meeting on Thursday September 8, 2022 at 6:30 p.m., hosted by SWRPC. At the meeting, SWRPC will present information about existing conditions on the Corridor and then take feedback from meeting participants regarding transportation challenges, opportunities for improvements and project ideas. Comments and local knowledge from residents who use this Corridor are critical for understanding our Region's transportation needs, and comments will be used to inform the update of SWRPC's Long Range Transportation Plan, Southwest Connects.
This meeting will be held via Zoom on September 8th at 6:30 pm. To join the meeting go to:
https://us02web.zoom.us/j/86348469941?pwd=yToqWjRAWiNLkPhF3BWeI91vZh9Z5S.1
Meeting ID: 863 4846 9941
Passcode: 101073
We hope to see you there!
For more information on the Route 10 South Corridor Fact Sheet